Contact Details-
Professor Kenneth Button
Distinguished Research Professor
The Institute of Public Policy (3C6)
George Mason University
Fairfax, Virginia 22030-4444
USA
Tel: 703-993-4647
Fax: 703-993-2284
e-mail: kbutton@gmu.edu

---
* Paper to be presented at the International Aviation Safety Conference Rotterdam 17-29 August 1997. Acknowledgement is given to the research assistance provided by Kirk Johnson. The work was partly financed under the European MINIMISE Project (Contract Number ST-96-SC.401)


Abstract
Aviation is becoming increasingly internationalized not only because international traffic is itself growing rapidly but also because airlines are themselves beginning to lose their national identity as cross-equity holdings expand and as airline alliances grow in number. These changes affect the commercial and the regulatory environment in which aviation services are provided but they also have potential implications for air transport safety. Although air transport safety is often treated as part of public policy, it is also influenced by the commercial interests of the airlines themselves. While there has been a recognition of the need for a public policy response to the new world of globalization and strategic alliances that are now part of the air transport market, this policy response needs to be made in the context of changing private incentives affecting airlines' own attitudes to safety. This paper focuses on the changes in private incentives that the growth in airline alliances in particular may have on safety.
Introduction
The number of major aircraft accidents in 1996, combined with concerns by aircraft manufacturers like Boeing that civil aviation may be slowly getting safer or, at worst, no more dangerous, indicates that the growth of aircraft movements in future years will result in a rise in the number of accidents. This has brought a response from the aviation sector (The Economist, 1997), and more recently in the US, the White House Commission on Aviation Safety and Security has been formed to address these issues as well.
All this is happening at a time when the air transport market has experienced considerable change. As with many other sectors, air transport suppliers are responding to commercial pressures for increased internationalization in order to reap benefits from both the cost and demand sides. The growth of international airline alliances is the most transparent manifestation, although there has been even more rapid growth in point specific alliances. These alliances are seen by carriers as a way of exploiting economies of scale, density and scope in the provision of services as well as a means to exploit economies of market presence in terms of patronage.
The growth in number and the nature of modern alliances have raised a series of policy issues concerned with anti-trust issues. This paper looks at another aspect of the globalization of the industry and the growth of various airline alliances and shows how the potential effect of these developments impact airline safety. In particular, it looks at the way market forces change and influence the commercial incentive for airline operators to offer safe services. Public policy regarding safety has been reacting to changing conditions in aviation markets, but such reaction should be in the context of the new commercial environment in which airlines provide their services.
This paper outlines some broad trends in globalization that have been and are influenced by developments in commercial aviation. It then looks at what is taking place regarding airline alliances, particularly those strategic in nature. An important point to remember is that conceptually, the details of any airline alliance may have specific safety implications. A model of how airline safety is incorporated in both corporate and public policy is developed, with subsequent implications of strategic alliances set within this context. The discussion will be concerned with aviation markets in what can be termed the industrial world. While strategic airline alliances exist in many parts of the world, this paper focuses on partnerships between carriers based in the major, economically developed countries. For other parts of the world, the arguments may be somewhat different.
Globalization and Aviation
Globalization and internationalization are two of the major industrial trends of the late twentieth century (Thurow, 1996). Part of these are reflected in the significant growth of trade that has taken place in the 1990s, with real export growth in the industrialized countries making up the Organisation for Economic Cooperation and Development (OECD) at over 7% per annum. From 1964 to 1992, first world production was up by 9%, but exports were up by 12% and cross-border lending up by 23%. Equally, a significant rise in foreign ownership of assets are now estimated to total about $1.7 trillion.
Whether these trends are passing fads or represent genuine long term adjustments to the way production and trade is conducted, it is too premature to judge. The preliminary indications are, however, that they are more than just transient trends.
All this has been taking place at a time when the institutional structure of air transport services provided has seen significant developments. The US deregulation of its domestic markets for air freight since 1977 and passengers in 1978, combined with subsequent commitment to an 'Open Skies' approach to international aviation in 1979, have affected the way US policy is conducted but also, through demonstration effects and direct knock-on effects, the ways many other air transport markets are now regulated (Button, 1990; Button and Swann, 1989).
The intra-European market, in particular, is moving rapidly towards a situation akin to that found the United States. Many European countries have unilaterally liberalized their own domestic markets, while the European Union (EU)(1) has, since 1988, moved through a succession of 'packages' to a position that by mid-1997 will leave air transport largely free from economic regulation (Button, 1996a). These measures initially opened up regulated fare and capacity bands within the EU but then limited fare and entry controls to instances where governments at both ends of a route agreed to them. The creation of a Single European Market since 1993 means that international air transport is essentially deregulated, with full cabotage of member states being allowed from 1997 (Button and Swann, 1992).
Intra-European market liberalization has also been accompanied by many bilateral agreements involving European states and the USA. The first such agreement involved the Netherlands and the US in 1992, and since that time, a significant number of smaller European countries have made similar agreements with the US, with a major Opens Sky agreement reached with Germany in 1996.
Outside of Europe and North America, the majority of national markets in South America have been liberalized with different types of extensive privatization programs. The markets in Australia and New Zealand have also been deregulated. The World Trade Organization brought into play, albeit an extremely small role, a new and geographically wider policy-making institution to supplement the roles already played by bodies such as the International Civil Aviation Organization and the International Air Transport Association (IATA). Aviation issues are also on the agenda of new regional groupings such as the Asian-Pacific Economic Council. There is continued pressure, therefore, for this international liberalization process to continue (Organisation for Economic Cooperation and Development, 1997)
This combination of market trends and institutional reforms, combined with rising incomes and increased leisure time, have contributed to the steady growth in demand taking place in aviation markets. Additionally, technology advances have meant that aircraft efficiency has risen, and air traffic control systems, despite their continued inadequacies, can handle greater volumes of traffic. This has exerted positive effects on the cost side of the international air transport equation.
As a result, world wide air passenger traffic since 1960 has grown at an average rate of 9% a year, and freight and mail traffic by some 11.0% and 7.0%. In 1995, for example, some 1.3 billion passengers were carried by all the world's airlines. Civil aviation has become a major service industry contributing to both domestic and international transport systems. It facilitates wider business communications than before and a key component in the growth of tourism that is now one of the world's major employment sectors. In addition to passenger transport, aviation as a form of freight transport is estimated by some to carry up to 60% of world trade by value.
All indicators are that as a sector, it will continue to expand into the future (albeit at differential rates) in various geographical sub-markets. While forecasting of aviation markets, as with many other activities, remains an art rather than a science, it seems likely that passenger traffic will grow at a rate between 5% and 7%, with much of this growth in the Asian-Pacific region (up to 9% annually). The forecasts are also for slower growth in the more mature US-European markets, despite North Atlantic traffic growing at an annual rate of 8% between 1982 and 1992 and by 5.0% for mid Atlantic routes over the same period. Nevertheless, the absolute size of the trans-Atlantic traffic flows, some 38.0 million passengers (about 13.9% of the world aviation market) in 1992, makes this area a very important aviation market. Taken together, the intra-European, US domestic and trans-Atlantic markets currently account for some 60% of world traffic.
Strategic Airline Alliances
In line with many other sectors, aviation has experienced significant moves towards internationalization in terms of market structure. It is the stated objective of a major UK carrier, British Airways, that it intends to become a 'global carrier'. In pursuit of wider market coverage and to enhance their own internal efficiency, airlines have followed a number of courses. The recent development of various forms of airline alliances is currently the most controversial of these (Button, 1997).
The exact definition of what constitutes an airline alliance is a vague, given that the institutional arrangements linking airline activities is continually changing. The notion of alliances, however, is one that has recently come under public scrutiny in the wake of several publicized efforts by a number of major international airlines to link their operations. The nature of these ties differ between groupings as the success of airline partners in gaining both official ratification and the way partners have operated and managed their alliances.
Historically, international alliances can be traced back as far as 1945 when the IATA was established primarily to coordinate international air fares. The bilateral structure of agreements that emerged following the 1994 Chicago Convention to initiate free international aviation markets was their inability to regulate fares, routings, schedules, designated carriers and often embraced revenue pooling. The primary aim of the immediate post-war structure was to protect non-US carriers at a time when, as a result of the Second World War, the US had built up a dominant fleet of aircraft that could be transferred to commercial uses. Subsequently, the IATA was often used to protect economically inefficient state owned carriers from the rigors of market competition.
The late 1980s and early 1990s saw growth of new forms of international alliances that embraced somewhat different characteristics and served different purposes. They have been less institutionalized in that they have been generally formed by privately-owned commercial airlines outside of any governmental or inter-governmental agency initiative. The main growth has been in international alliances, with the first of these, American Airlines and Qantas, signed in 1985. The number involving US carriers grew rapidly, and by 1992 there were 61.
Alliances are also in a continual state of flux. According an Airline Business survey, the Spanish carrier Iberia reduced its alliances from 27 in 1995 to 13 by May 1996. Over the same period, Austrian Airlines canceled six agreements and added four new ones, Swissair added six agreements and dropped three while United Airlines canceled six but added two. These changes are part of a tidying-up processes as carriers formulate more coherent network strategies.
The exact number of airline alliances now existing is unclear, not only because of the dynamic nature of the arrangements, but because the term 'alliance' is generic with no precise definition. It can, in a strict legal sense, mean some degree of equity ownership of one carrier by another, but alliance is more often interpreted in looser terms to embrace such things as code-sharing agreements, interchangeable frequent flier programs and coordinated scheduling of services. Equally, airlines are involved in a large number of different alliances, some embracing a single partner but others involving several carriers. A more recent feature is several major carriers linking their activities together in so-called 'galaxies'.
An annual survey by Airline Business attempted to track alliances involving the major carriers and to report changes in the main features of them (see Table 1). The growth is immediately obvious as is the relatively small quantitative importance involving an equity stake and the slow growth in their numbers. The data presented, however, is not definitive and one finds that The Economist in 1995 produced slightly different figures and claimed there were then 401 alliances, double the number it estimated four years earlier. The overwhelming, conclusion, though, is that the number of alliances is large and increasing.
The North Atlantic market embraces a number of major strategic alliances that involve the airlines code-sharing and cooperating in other ways across a large number of routes that strategically link their networks. This type of alliance dates back to the formation of the Global Excellence alliance formed by Swissair, Singapore International Airlines and Delta in 1989.
Other alliances, such as those between Continental and Alitalia and United and British Midland, are regional in their orientation and involve code sharing. The vast majority of alliances, called 'point-specific', are minor, targeted affairs that usually generate few controversies. Blocked-space agreements are often a feature of point-specific alliances, with airlines purchasing and reselling blocks of seats on each others flights.
Table 1. Airline alliances 1994-1996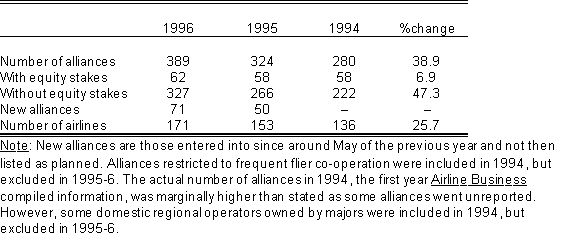 Point specific alliances, in their various guises in some cases may create fears of monopoly domination for an individual route. The multifaceted, strategic alliances where large international carriers become increasingly engaged are now seen as potentially posing challenges of a somewhat greater magnitude (US General Accounting Office, 1994).
In detail, alliance arrangements can take a number of different forms (Button, 1997).
Full mergers of domestic airlines were a feature of the US market following the 1978 Airline Deregulation Act as the initial period moved into one of consolidation and rationalization; of the 34 new jet scheduled carriers entering the US market between 1978 and 1992, only 2 remain operating today, while the vast majority were merged with incumbents. This type of alliance is the most extreme form and a traditional way that carriers coordinate their operations and other activities. Carriers claim to enjoy the advantage that complete control is in the hands of a single board and that resources are allocated more effectively.
In practice, however, mergers are not always successful. Generally, the link overlapping networks in any transport industry tend to offer fewer economies than those combining interfacing networks (either in geographical terms or with respect to the types of service offered). In some instances, problems also arise because those involved have miscalculated the costs of transition.
Mergers generally involve the need to obtain institutional approval from various authorities. In virtually all cases, cross-border mergers are not possible because of regulations limiting the degree of permitted foreign ownership in an airline. A notable exception is SAS. Cross-border mergers also pose problems in terms of implications for international air transport agreements since the nationality of a carrier can become blurred.
Even within countries, mergers are often controlled by national governments despite their degree of control. The U.S. Department of Transportation, for example, took a very passive stance following deregulation of the domestic market, and individually, European countries have taken a variety of positions, like the EU, in recent years. In many cases, mergers such as those between British Airways and British Caledonia and Air France and UTA have only gained approval by the airlines relinquishing routes or slots.
The strongest form of airline alliance, short of direct mergers or take-overs, involves either unidirectional (such as USAir/British Airways and Northwest/ KLM alliances) or cross-equity holdings. While these still take place, there has been a tendency for the level of equity holdings to fall short of a full merger (see Table 2). This is true when airlines from two countries are involved and national laws limit the extent of foreign ownership. The table does not show the degree of control that equity holdings can afford an airline and, in particular, voting rights that are often less than the relative amount of capital involvement.
The relative importance of airline alliances involving equity stakes tends to be declining; Airline Business reports that less than 16% of agreements in May 1996 involved equity investments compared with 18% in 1995 and 21% in 1994. This does not mean there has not been a large increase in their absolute numbers. Other surveys indicate that from 1992, ownership stakes of above 20% have predominated.
Potential travelers have traditionally suffered a dearth of information regarding their air transport options. The problem was compounded from the late 1970s as fare deregulation and widespread adoption of yield management techniques by airlines introduced a massive array of continually changing fare options. The use of computer reservation systems (CRSs) provides the interface between the carriers and the potential travelers. Airlines combine to make use of the information channels provided by CRS systems to stimulate their joint traffic flows and involves code-sharing. This is now seen as a main feature of airline alliances, and the number of code-shares has grown considerably in recent years.
Table 2. Foreign ownership of major airlines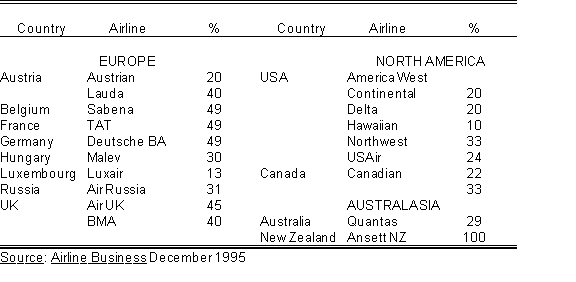 Technically, code-sharing is a arrangement between two carriers that allows them to sell seats on each other's flights under their own designator code. In the case of connecting flights of two or more code-sharing carriers, the passenger's entire flight is displayed as a single carrier service on a CRS. From the customers' perspective it gives the impression of an on-line service and offer some features related to this service such as single check-in, common frequent flier program and coordinated flight schedule. Code-shares cover a wide range of services, as does the major strategic alliances, but more often it involves a single service or a small network of services. A stronger form of code sharing involves blocked space arrangements. In this case, one carrier buys space on another airline's craft that it sells in its own right and thus using its own designator code.
Hub-and-spoke operations, particularly the 'banking' of flights that are a concomitant of effective hub-and-spoke operations, can be more efficient if carriers coordinate their flight schedules. By allowing traffic to be consolidated and transshipped between flights, hub-and-spoke operations can enhance load factors and allow airlines to reap benefits of economies of scope and scale that exist. By agreeing to coordinate schedules, two allied airlines can increase the potential amount of traffic that occur across their combined networks.
Franchising has been a tradition in many sectors, such as fast food and clothing. In aviation it would allow a major carrier to spread its name and generate revenues on thin routes without necessarily committing major capital investments. It is now an alliance that is growing in popularity in international markets, especially in Europe where British Airways has been successful in developing franchising activities. Other carriers have been less enthusiastic about franchising arrangements and have been slower to adopt them.
The Aviation Safety Equation
The incentive for any airline is to provide safe services, as business would suffer if its accident rate (perceived or real) exceeded the net benefits passengers enjoy its services. Safety is one of the attributes that potential customers, and subsequently investors, look at in making decisions(2) . This inherent market pressure is boosted by regulations and codes of conduct imposed on the industry by the government. Their involvement is usually justified because of imperfections in the market that make it impossible for potential passengers to understand fully the risks confronting them or, even if information is adequate, have insufficient market power to ensure levels of safety are optimized.
One way of looking at air transport safety is to think in terms of the incentives that influence the actions of those providing air transport services. Essentially, the incentive function takes the general form:
S = f(E, G, I) +e (1)
where:
S reflects the safety standard level adopted by an airline;
E reflects the private economic incentive to be safe (e.g. reputation, insurance premiums, lost business, share price and the interest of flight personnel);
G represents the government safety codes and policies (e.g. aircraft safety features, maintenance standards and crews' working hours and conditions);
I represents infrastructure considerations (e.g. airport design and air traffic control).
There is an additional random element in the function e, indicating the risk of someone else (such as a missile or bomb), causing the accident(3) .

For safety levels pursued by a carrier, there is no reason to assume it is socially desirable for an airline to be 100% safe. There are opportunity costs associated with devoting resources to safety, and it is clear from individuals' choices on the speed they drive and decisions made regarding car versus air travel that such factors over-ride safety considerations. In fact, many argue that aviation is excessively safe and with better information about relative safety records, society would put less resources into aviation safety (Kahn, 1988).

While the factors on the right side of the equation may be expressed as independent factors, they will, in practice, exhibit some degree of correlation. The nature of infrastructure provision, for instance, is inevitably linked to the safety regulatory regime adopted by the authorities. The internal economic incentives influencing an airline's pursuit of safety cannot be completely separated from the institutional regime within the carrier operates. Nevertheless, the three-way division is helpful in tying together the implications of globalization and strategic alliances with aviation safety considerations.

Strategic Airline Alliances and the Safety Equation

In equation 1, changes in the institutional structure of the airline industry, including the creation of strategic alliances, can have a bearing. These are in terms of the internal structure of the airlines' operations and the ways authorities may respond to them.

What is not at present is a large body of rigorous empirical evidence linking strategic airline alliances to safety questions. Alliances are too new for detailed statistical analysis of the type required; short term fluctuations in airline accidents rates involving a small number of incidents does not make for easy econometric work. What must be relied on in looking at safety implications are parallel experiences of aviation developments that have also influenced the structure of the sector and anecdotal evidence from the experiences of alliances to date.