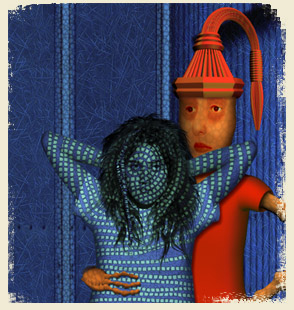 Exhibition Dates:
September 22 - December 15, 2003
Krasnow Institute for Advanced Study
Tuesday, October 14th:
Reception 4:30 - 6:30 pm
(shuttle van available from Mason Hall every 15 minutes)

Gail Scott White is a professor of digital arts in the Department of Art and Visual Technology, and a co-founder and Associate Director of the Multimedia Performance Studio, at George Mason. Her work ranges from digital prints and sculpture to multimedia design for opera, theater, dance, performance and outdoor projection/installations.
She has exhibited at the Alternative Museum and A.I.R. Gallery(NYC), Stone Quarry Hill Art Park (Cazenovia NY), and Dance Place (DC), and she received an artist's fellowship from the Virginia Commission for the Arts. Recently her work was featured in Art on the Digital Edge at the Academy Museum (Easton MD), and she created multimedia design for two operas, Hans Werner Henze's The End of A World and John Harbison's A Full Moon in March, for Encompass New Opera Theatre in New York City.
Transgenic Beings is a series of large-scale color giclée prints which combine 3D modeling with digital photographs of projections on human bodies. These images depict ambivalent encounters, in a nearly familiar world, among beings whose art is painted on their skin.