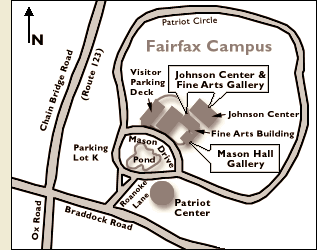 1. See Directions to George Mason University.
2. To Find Your Way to the Fine Arts Gallery in the Johnson Center, See the Following Directions.
Take Braddock Road, either from 123 or from 495.
Enter GMU via Roanoke Lane.
Bear to the right as you merge with Patriot Circle.
Turn left onto Mason Drive.
Turn right into the Visitor Parking Deck just past the Center for the Arts.
Exit the Parking Deck on the third level; the Johnson Center is ahead and to the right.